Table of Contents
---
Our mission
Our mission is to strengthen longitudinal family practice as the foundation of an integrated system of care.
Our strategic vision
Our strategic vision is to enable access to quality primary health care that effectively meets the needs of patients and populations in BC, using the patient medical home (PMH) as the foundation for care delivery within a broader, integrated system of primary and community care. The PMH represents the ideal team-based family practice, and it is the foundation of Primary Care Networks (PCN). PCNs include PMHs, health authority and First Nations community-focused programs, and other community-delivered primary care services, all working together to deliver improved patient-centred care.
Our mandate
FPSC is the vehicle for representatives of government, Doctors of BC, and BC Family Doctors to work together on matters affecting the provision of services by family physicians (FPs) in British Columbia. The GPSC identifies changes in current physician service delivery that could result in improvements in patient care, more effective utilization of physician and other healthcare resources, and measurable savings in expenditures. It supports the integration and alignment of physician services with other health service delivery, and encourages appropriate collaborative practice with other physicians and integration of physicians with other health professionals. The committee also provides incentives for FPs to provide full-service family practice and benefit patients.
FPSC Membership
The list of FPSC members and their biographies is posted here.
---
Areas of focus for 2021-22
In addition to ongoing work to support physicians in providing longitudinal care through incentives, practice support, and networking support through divisions, the GPSC addressed these emerging needs of family physicians:
1. Physician leadership
The GPSC provided opportunities for physician leadership development and capacity building for PCN implementation.
2. COVID-19
Primary care responded to new challenges created by the COVID-19 pandemic, which profoundly affected family doctors and their practices. As the leading collaborative table for primary healthcare transformation in BC, the GPSC continued working with physicians and divisions to support effective pandemic preparedness planning and the delivery of safe and appropriate care.
3. Physician wellness
Physician wellness is fundamental to a well-functioning, quality primary care system. Physician stress and burnout have been growing for many years and COVID-19 has exacerbated these trends. The worsening opioid crisis continues to impact communities, first responders and primary care providers. The GPSC's initiatives are intended to provide financial and in-practice supports and services to ease burden, recognizing this is only part of the broader system supports that are needed. In coordination with Doctors of BC and the Joint Collaborative Committees, the GPSC worked to address physician burnout and improve physician health and wellness.
4. Cultural safety and anti-racism
Systemic racism has been raised as a significant issue in health care across BC. Primary care providers have a key role to play in addressing these issues as members of clinical teams, providers of direct care to patients, and leaders in the health system. The GPSC is committed to promoting cultural safety and humility, and addressing system racism. The GPSC worked across the Joint Collaborative Committees to provide cultural safety and anti-racism learning opportunities for physicians.
5. Mental health and addictions
Recognizing the ongoing impacts of the opioid crisis on communities and providers, the GPSC continued to support physicians to access mental health and addiction continuing education opportunities, and improve linkages between primary care and mental health and addiction services.
---
FPSC Work plan & budget 2021-22
| | |
| --- | --- |
| Total budgeted 2021/22: | $ 178,554,839 |
Most of the GPSC's resources, tools, and supports go directly to physicians through payments and incentives to support longitudinal care, incentives, supports for practice level QI and change management, and payments to divisions for infrastructure, change management, networking and clinical programs such as the Long-Term Care Initiative, and enhancing in-patient care. Also included are the costs of staffing, including those who work directly with physicians in practice, and those who work in supporting the divisions of family practices. A smaller proportion of funding goes to the central team that supports the GPSC programs, and is involved in the development and monitoring of GPSC programs, initiatives, and activities. More details, as well as a budget breakdown, is presented in the sections below.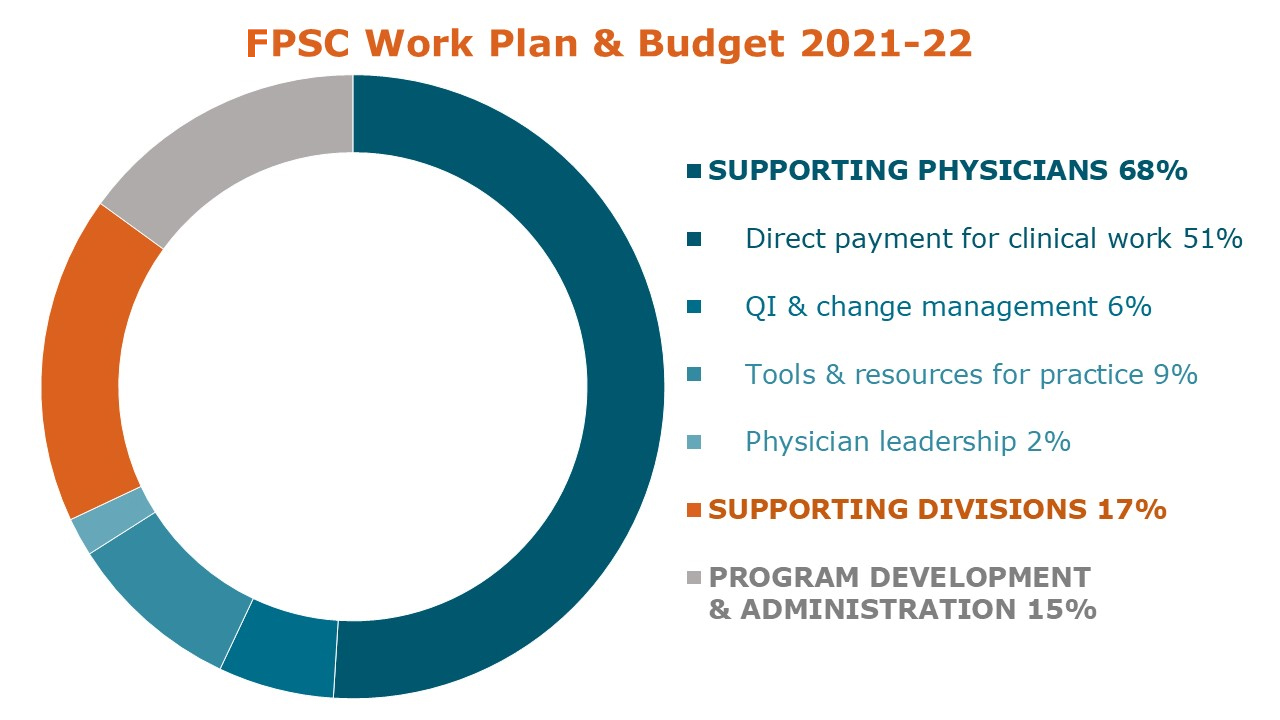 Supporting physician practice
(67.4% of the budget)
$ 120,413,390

Payments & incentives paid directly to physicians for clinical work
(50.6% of the budget)
$ 90,376,000

This funding goes directly to physicians to support the work of providing longitudinal care. This includes the CLFP payment, maternity and in-hospital networking fees, new incentives, and the division-led long term care initiative.

| | |
| --- | --- |
| Incentive payments to family physicians (maternity, hospital, lift to hospital fees) | $ 34,557,457 |
| Community Longitudinal Family Physician (CLFP) Payment | 21,693,543 |
| New Brief Conference Fee – new incentive | 5,250,000 |
| Mental Health – new incentive | 2,000,000 |
| New Patient Intake Fee – new incentive | 3,100,000 |
| Personal Health Risk Assessment – new incentive | 1,500,000 |
| Other incentive activities | 1,190,000 |
| Team Based Care Grant – one-time payment | 3,960,000 |
| BC Care Bundle – one-time payment | 1,000,000 |
| Long-Term Care Initiative | 12,000,000 |
| Additional in-patient care payments for sustainability of hospital programs (administered through the divisions of family practice) | 3,600,000 |
| International Medical Graduates program (JCC transfer) | 125,000 |
| Maternity Care (MC4BC) | 400,000 |

Quality improvement (QI) & change management
(6.1% of the budget)

$ 10,800,000

The GPSC provides tools and resources, including local/community-based coaches and peer mentors to undertake QI and other practice foundation activities in order to realize the attributes of the patient medical home model.

| | |
| --- | --- |
| Panel Development Incentive | $ 4,500,000 |
| PSP - Delivery Sessionals | 4,600,000 |
| Payment to family physicians for participating in SSC PQI program | 1,700,000 |

Tools & resources for practices
(8.9% of the budget)
$ 15,867,390

The GSPC also provides tools and resources for assisting physicians in practice, such as providing physicians with point of care access to information that helps in practice. These are resources that physicians use every day in practice to access information and tools that support physicians and patients.

| | |
| --- | --- |
| Minor tenant improvements | $ 4,500,000 |
| Health Data Coalition (HDC) | 4,100,000 |
| Substance Use and Addictions Care (BCCSU) | 162,390 |
| Up-to-Date | 2,800,000 |
| Pathways | 1,400,000 |
| Patient Experience Tool | 530,000 |
| Building QI capacity in practice | 2,375,000 |

Physician leadership
(1.9% of the budget)
$ 3,370,000

These initiatives give physicians the tools and resources to have meaningful voice and influence in the health care system.

| | |
| --- | --- |
| GPSC Summit | $ 300,000 |
| Quality Forum/Showcase (JCC transfer) | 125,000 |
| Cultural safety & anti-racism events for physicians | 350,000 |
| GPSC Leadership Development Program | 1,100,000 |
| Health System Redesign (JCC transfer) | 870,000 |
| GPSC Working Groups | 625,000 |

The GPSC Summit is a venue for learning and knowledge sharing about collaborative approaches to primary care transformation.
The GPSC supports the annual Quality Forum Showcase, which is a forum for sharing knowledge and advancing new ideas to improve care across BC.
The GPSC collaborates across the Joint Collaborative Committees and with First Nations to deliver cultural safety and anti-racism learning opportunities to physicians as a priority area of focus.
The GPSC leadership and management development program builds physician leadership capacity related to the overall redesign of primary care in BC.
The GPSC provides funding to physicians and communities to ensure physician input to support implementing local solutions for health system redesign projects initiated through health authorities.
The GPSC working groups support the development, evolution, and operations of provincial initiatives to support physicians in improving care to target populations.

Supporting divisions
(17.4% of the budget)
$ 31,100,000

These are tools and resources that support communities of physicians via the divisions of family practice. The divisions are community-based groups of family physicians working together to achieve common health care goals. Divisions work collaboratively with community and health care partners to enhance local patient care and improve professional satisfaction for physicians. There are 35 divisions representing more than 230 communities, including a division that targets physicians in remote and rural areas of the province.

| | |
| --- | --- |
| New maternity supports | $ 1,000,000 |
| Physician change management supports & engagement | 7,100,000 |
| Infrastructure funding | 22,000,000 |
| Regional/local attachment mechanisms | 1,000,000 |

The GPSC has provided funding to communities at risk of non-sustainability of maternity services for the development and evolution of community approaches to supporting maternity care.
The GPSC provides funding to all 35 divisions of family practice to support physician change management and engagement in developing and implementing patient medical homes and primary care networks.
The GPSC provides infrastructure funding to all 35 divisions to support the core functions of divisions – governance, strategic leadership, operations – and collaborative work and engagement at the local, regional, and provincial levels.
The GPSC provides funding to 35 divisions to augment divisions' local attachment work, and to enhance recruitment and retention efforts across BC.

Program development & administration
(15.1% of the budget)
$ 27,041,449

For program development & administration
(6.5% of the budget)
$ 11,527,000

The supports in this category ensure that we have the capability for ongoing evolution and improvement of programs, tools, and resources that the GPSC provides to support family practice.

| | |
| --- | --- |
| CPQ Program | $ 300,000 |
| DTO Program | 1,800,000 |
| GPSC staff related costs for program development, administration, and monitoring | 3,250,000 |
| Incentive fee program | 150,000 |
| Recruitment & retention – regional coordination | 750,000 |
| GPSC Committee | 225,000 |
| Evaluations | 932,000 |
| JCC Cross-committee work (JCC transfer) | 70,000 |
| GPSC Operations & overhead | 3,550,000 |
| Ministry staff supporting administration, evaluation, and incentives | 500,000 |

Through the CPQ program, now known as the Primary and Community Care Transformation team, GPSC provides a suite of programs that support physicians in practice and in community.
The Doctors Technology Office (DTO) provides technical and advocacy support for BC physicians with a focus on doctors who have implemented an electronic medical record (EMR). Services include clinic level security and privacy readiness, and supports to enable the safe integration of systems and data flow within patient medical homes and primary care networks.
GPSC staff related costs for program development, administration and monitoring for all committee initiatives, activities and deliverables.
The incentive fee program involves designing, implementing, analyzing, and managing new and existing family practice payments, including those that have transferred to the Available Amount.
GPSC provides regional recruitment and retention funding to support regional collaboration for increased, equitable family physician recruitment and retention in the region.
Funding for the GPSC committee, GPSC operations and overhead supports the activities of the committee and working groups, in addition to measuring progress and evaluating GPSC and community initiatives.
The GPSC develops and implements evaluation frameworks and tools that affect patient medical homes and primary care networks. The GPSC also conducts in-depth studies of patient medical home innovation in partnership with stakeholders.
The Joint Collaborative Committee (JCC) cross committee work involves decision making and local implementation strategies through data analysis and synthesis of learning across initiatives.

For staff working directly with physicians in their practices
(8.7% of the budget)
$ 15,514,449

GPSC provides staff who work directly with physicians within their practice and supports physicians in their collective efforts to improve care in their communities.

| | |
| --- | --- |
| PSP – Regional support teams | $ 9,664,449 |
| Panel management support team | 2,050,000 |
| Enhanced TBC support | 300,000 |
| CPI Central infrastructure & engagement partners | 3,500,000 |

Regional support teams from the GPSC Practice Support Program offer customized coaching to support doctors in exploring how new tools or team-based care options can improve both the physician's practice experience and patient care.
The GPSC panel management support team supports family practices through the phases of panel management and ongoing panel maintenance.
Enhanced team-based care coaches offer specialized expertise to primary care teams to facilitate aligning team member competencies and scope, and integrating new roles with new scopes into practices, resulting in improved understanding among team members.
The GPSC develops and operates a suite of programs that support physicians in the community through CPI central infrastructure and engagement partners.